Savor
Creator of RainbowPlantLife Nisha Vora Dishes on Her Favorite Vegan Comfort Foods and 6 AM Productivity
Nisha Vora is a vegan chef making her mark in the food blogging community. Her online platform, RainbowPlantLife, features nutritious vegan recipes, beautiful food photography, as well as tips for those trying veganism for the first time. The multi-hyphenate food entrepreneur is a cookbook author too. Vora's "The Vegan Instant Cookbook" has over 90 recipes, highlighting vegan-friendly versions of popular comfort foods.

Back in 2014, Vora made a career transition from working in corporate law to blogging, where she has found fulfillment in its freeform style. Since that shift, Vora has inspired her over 450k Instagram followers to cook colorful and flavorful vegan dishes. I've personally tried her signature Vegan Red Lentil Curry recipe, and it was AMAZING. The depth of spices in that dish was nothing like I've ever cooked before.

We recently had the chance to ask Vora all of my burning questions about everything from her career to cooking. Ahead, find out the creative process behind her tasty vegan recipes, how she stays productive as a self-directed food content creator, and so much more.
1. What sparked your interest in food blogging? How did you begin to build an audience in the food blogging community?
I've loved cooking since I taught myself how to cook when I was 15. When I went vegan in 2016, I started to learn more about how our food is grown and experimented with new plant-based cooking techniques, and that only increased my passion for cooking. I started my Instagram account in 2016 without knowing anything about how social media worked. I hadn't even heard of the term "influencer" and 1000 followers was my stretch goal, but through a lot of hard work, experimentation, and consistently showing up, my community began to grow.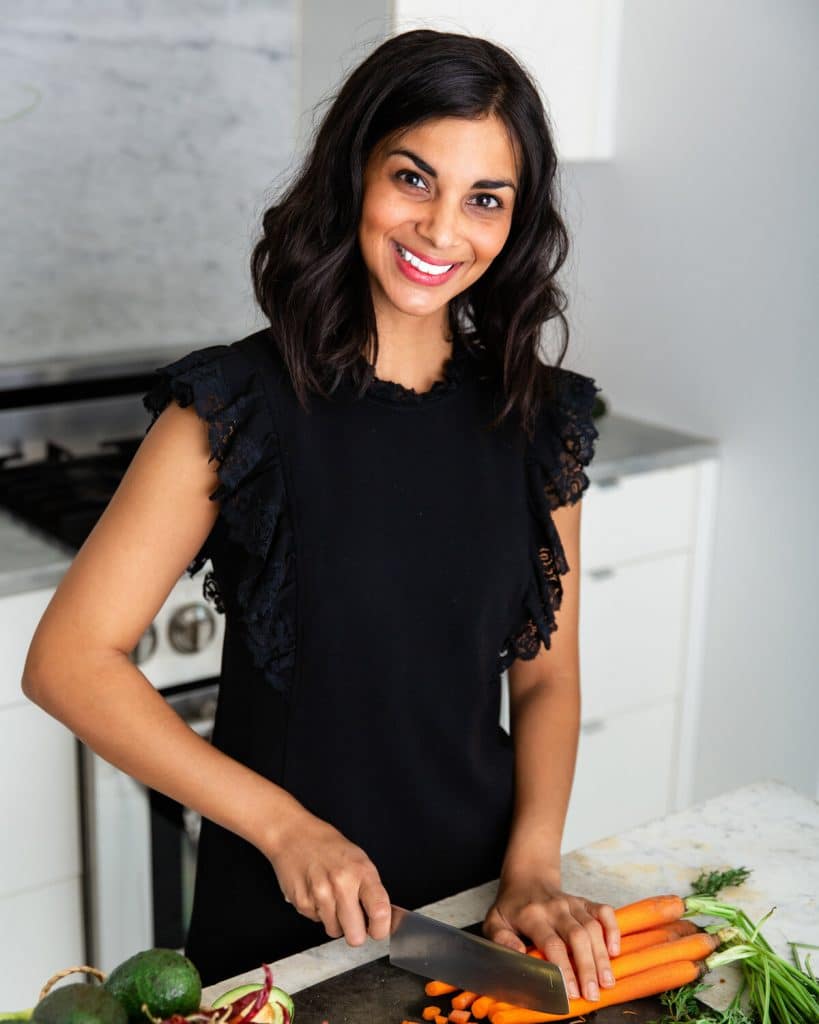 2. How do you create and follow a schedule as a self-directed food entrepreneur? What does your day-to-day workweek look like?
Well, I just moved cross country from NYC to California, so my schedule has gone out the window lol. But, typically I'm a big morning person and very self-disciplined, so I love to get up before 6 AM and do a lot of productive deep work in the early hours of the morning. Some days, I'm on my feet all day in the kitchen testing recipes for my next cookbook, photographing for the blog, or filming YouTube videos. Other days, I'm staring a computer for hours on end. I usually have an energy lull around 1-3 pm so I try to take a break, run errands, or do low-energy work during that time.
3. I discovered that you were a vegetarian before becoming vegan. What are some of the unexpected lifestyle or cooking differences between vegetarianism and veganism?
I am highly lactose intolerant, so once I finally ditched cheese and ice cream, I felt so much better (shocker)! My digestion improved and I have so much energy (some say too much!). I also feel happier and more aligned with my values and beliefs in compassion and nonviolence. Cooking-wise, I find myself constantly experimenting with nuts, seeds, legumes, and vegetables to replicate the creamy indulgence that dairy typically brings to a recipe.
4. On a busy day, what does your typical breakfast, lunch, and dinner menu look like? Do you have any vegan snacks you like to munch on?
Some days I eat a light breakfast like vegan yogurt + fruit, or a smoothie. Other days, I do intermittent fasting and start my first meal with an early lunch. And right now, I've been eating my pumpkin spice bread for a late breakfast because it's too good to not eat. Lunch and dinner are often leftovers from recipes I'm testing for the blog/Youtube/cookbook, though when I try harder, I'll incorporate some sort of leafy green salad into lunch. When I'm too tired to cook because I've been cooking all day, I'll order in – Middle Eastern and Thai are my go-to's. My snacks are usually roasted nuts, dark chocolate, or hummus toast. Sometimes, a little vegan ice cream happens after dinner (can you tell I have a sweet tooth??).
5. I'm amazed at the sheer amount of recipes in "The Vegan Instant Pot Cookbook." What process went into crafting those cookbook recipes? Do you have friends or family taste them beforehand?
Thank you! A lot of my recipes are comfort foods but with a twist or elevated spin, so I often think about how I can veganize and personalize common favorite comfort foods, so you'll find everything from lasagna and mac and cheese to Thai Green Curry and Tofu Tikka Masala in my cookbook. Occasionally, a recipe will work out perfectly the first time, but for most recipes, it's a process of iteration and refinement over many weeks. My partner Max tasted 90% of the recipes in the book. He has quite demanding tastes (almost as much as me), so if he likes something, I usually feel confident in it.
6. How do you come up with new and unique recipes you share on your Instagram? Any sources of inspiration?
I'm always inspired by nature and the seasons! I try to go to the farmer's market weekly and see what looks fresh. I often ask the farmers what's their favorite way to cook a particular vegetable, or what they like to pair it with – you'd be surprised how many good ideas you can get this way. Some of my inspiration also comes from nonvegan chefs' cookbooks and TV shows. I often see something that looks amazing and write it in my iPhone Notes for inspiration; later, I revisit it and think about how I can tailor it to a plant-based diet. In the "before times," I did my fair share of dining out so I'd often get inspired by the creative vegan dishes constantly popping up around NYC. And there's a good amount of global inspiration from my travels as well as my Indian heritage, especially in my cookbook. 
7. On the Rainbow Plant Life Instagram, there are lots of creamy and cheesy dishes. What's the tastiest cheese and dairy substitute for vegans? For those who don't like to cook as much, are there any store-bought vegan dairy products you recommend?
Yes, good observation! I swear by cashews for all kinds of vegan dairy substitutes, from cheese sauces to salad dressings to cheesecakes. There are so many fabulous vegan ice creams at supermarkets these days (So delicious, Nadamoo, Van Leeuwens, Oatly…just to name a few). For store-bought cheese, I have a blog post called "the best vegan cheese substitutes," which includes both store-bought and homemade alternatives.
8. For people going vegan in non-vegan households, do you have any advice on making that transition easier?
Volunteer to do as much of the cooking as you can! You'll not only work on your culinary prowess, you'll also get to control what's on the menu. Make it a fun experience by selecting 10 vegan recipes that both (or all) of you would be interested in trying. Then, commit to cooking one of those recipes together each week. Or, have a weekly takeout night and try a different cuisine (e.g., Indian, Thai, and Ethiopian almost always have vegan-friendly options). And lean into the comfort food angle! Everyone loves comfort food, so if you can show your non-vegan pals that eating a vegan diet doesn't have to include sacrifice, they're much more likely to get on board.
9. What's the best tip for eating clean consistently?
I don't think I can help you here! I don't label foods clean or not clean/dirty because that mentality is what caused, in part, me to develop an eating disorder at a young age. I just aim for a fairly balanced diet and eat what my body needs and wants. Of course, I feel a lot better when I eat lots of veggies relative to processed foods, and the older I get, the more I am becoming in tune with what my body needs.
10. Outside of cooking, what hobbies and activities do you engage in? Anything followers would be surprised to learn about you?
I'd be lying if I said I had that much time for outside hobbies (keeping it real, it's a grind but one that I love). When I'm not working, I love playing game night with my family and close friends and basking in the sunshine.
11. What does PRETTY GIRLS SWEAT mean to you?
The license to break out of dated gender stereotypes about how women should look and behave!