Even if you're not a professional athlete, I'm sure it comes as no surprise that what you eat before and after your workout is extremely important. Fueling your body with the proper nutrition will make your workout more efficient and maximize the benefits of all your hard work at the gym. But if you find yourself scrambling for the right food before and after a workout, here are some delicious ideas that will keep you on track.
Pre Workout Bite #1: Bowl of Fruit
On a college student budget, buying overpriced, pre-made fruit bowls will leave a dent in your wallet. Instead, buy whole fruit from a farmer's market or grocery store and prep your own fruit bowls. Pick a variety of fruits that you love that also contains valuable nutrients like vitamin C, potassium, and dietary fiber. The seven most nutritious fruits you can eat are: oranges, grapefruit, blackberries, strawberries, limes, lemons, and blueberries. 
Pre Workout Bite #2: Greek Yogurt with Granola
Greek yogurt is full of protein. The straining process used to create it results in a higher concentration of casein, a slower-digesting milk protein that provides the body with a steady increase in blood amino-acid levels. With greek yogurt in your system, there's an increase in muscle protein synthesis. In other words, out of all the amino acids, it makes the most impact on your muscles' ability to actually use the protein you're ingesting. 
Pre Workout Bite #3: Omelette and Avocado Toast
If you have the time, head to the kitchen to make a homemade omelet. An omelet with a side of avocado toast will have protein and fat that can fuel your body for a high-intensity workout. If you can't make the avocado toast, no worries. A piece of peanut butter toast will provide a similar source of fats.
Post Workout Bite #1: A Green Smoothie
A tasty smoothie can bring a smile to almost anyone's face after a hardcore workout. Add an assortment of vegetables and fruits for the fullest capacity of nutrients. The fiber and vitamins in spinach make this smoothie an excellent choice. 
Post Workout Bite #2: Paleo Chicken Hash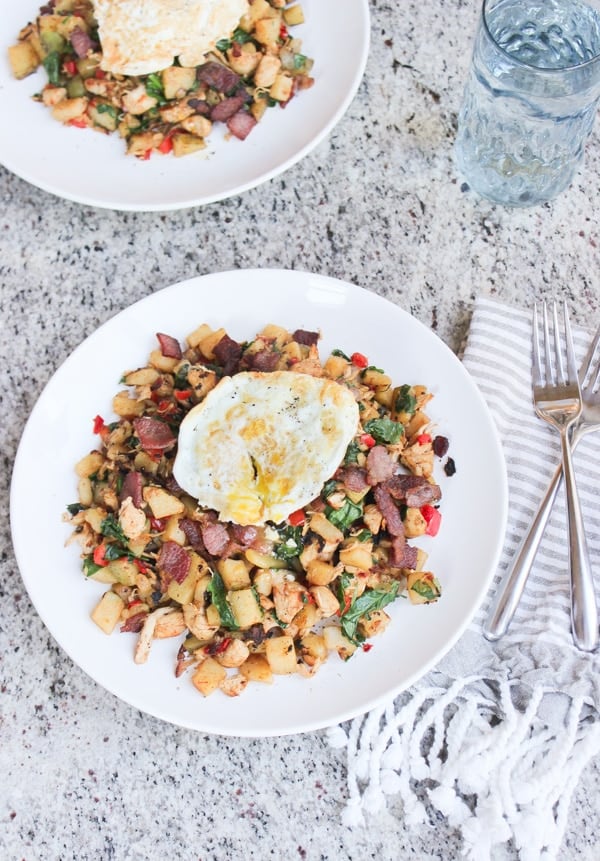 You can either get creative in the kitchen or your dining hall with this post-workout bite. Paleo hash can consist of leftovers in your fridge or a mix of vegetables and protein your campus cafeteria has available. The base is comprised of potatoes, chicken, and eggs to rebuild your muscles after a workout. Your dining hall may or may not have chicken breast, but it never hurts to ask the cooks!
Post Workout Bite #3: Egg and Vegetable Bagel
An egg and vegetable bagel is perfect to piece together after working out. On your bagel, you can add any vegetable your heart desires, whether it be cucumbers, peppers, or tomatoes. Eating this healthy bite after a workout will have you satisfied and feeling accomplished.
If you want more meal ideas, read What to Eat Before a Workout: 50 Pre- and Post-Workout Snacks. Let us know which option you want to sink your teeth into in the comments below!